Book: The Wedding Girl
Author: Madeleine Wickham
Genre: Chick-Lit
My rating: 2.5 Stars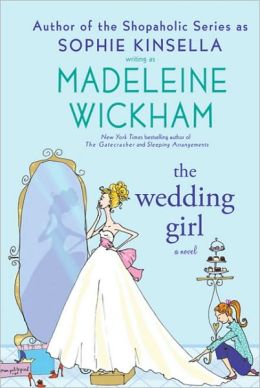 When I was browsing the library bookshelves, Madeleine Wickham's "The wedding girl" caught my eye. I like to alternate heavy reads with something light and Sophie Kinsella books have always been a favorite. I've never read anything written by her as Madeleine Wickham until now so I figured this was a good time to pick this book.
Book Description (from the author's website)
At the age of eighteen, in that first golden Oxford summer, Milly was up for anything. Rupert and his American lover Allan were all part of her new, exciting life, and when Rupert suggested to her that she and Allan should get married, just so that Allan could stay in the country, Milly didn't hesitate, and to make it seem real she dressed up in cheap wedding finery and posed on the steps of the registry office for photographs.

Ten years later, Milly is a very different person. Engaged to Simon - who is wealthy, serious, and believes her to be perfect - she is facing the biggest and most elaborate wedding imaginable. Her mother has it planned to the finest detail, from the massive marquee to the sculpted ice swans filled with oysters. Her dreadful secret is locked away so securely she has almost persuaded herself that it doesn't exist - until, with only four days to go, her past catches up with her. Suddenly, her carefully constructed world is about to crash in ruins around her. How can she tell Simon she's already married? How can she tell her mother? But as the crisis develops, more secrets are revealed than Milly could possibly have realised...
My thoughts
I didn't enjoy the book as much as I thought I would (which was quite a disappointment). When I first saw that this book was about "a very silly heroine who gets herself into real pickle" I expected a very light, funny read not very different from the shopaholic books I've read and loved. The wedding girl was however a little more serious and touched upon difficult adult topics (infidelity, homosexuality, faith, abortion, etc to name a few) and I didn't really feel the sync between the attempted light tone and the actual issues dealt with the book. I couldn't warm up to any of the characters in the book – definitely neither Milly nor her fiancé Simon – which made it all the more difficult to get in to the book. The reveal of Milly's big secret a few days before the wedding sets off a series of big secret reveals – a dominoes effect of sorts – but it felt like a little too much. Why did every single character have to have a back story and a secret to reveal? I think I might have enjoyed the book more if I hadn't begun reading it expecting a shopaholic style novel.
On the bright side, like all her other books I've read, The Wedding Girl was a quick read. There were no dull parts and you kept reading and wondering what was actually going to happen at the end. I don't think I am giving up on Madeleine Wickham books. I'll just be a little more careful with my expectation and prepare myself for more "grounded" books than those written by her as Sophie Kinsella.